June Newsletter
This month we'd simply like to re-post a great article from OnlyOswego.com

Oswego High School Graduate Building International Guitar Business in His Hometown
Jun 04, 2015 02:57PM, Published by Steven Jack, Categories:


---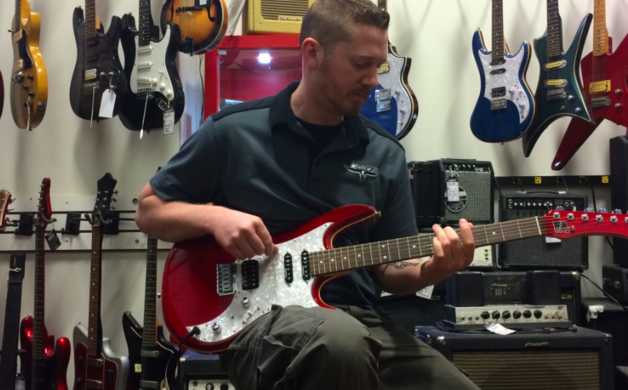 Nate DeMont founded DeMont Guitars in 2008 by scouring local classified ads for guitars to buy, fix and sell. Today, his Oswego company is manufacturing guitars and parts for sale all over the world.
---
Gallery: DeMont Guitars [4 Images] Click any image to expand.
---
---
You'd likely never know it, but tucked away in a quiet corner of Oswego's Stonehill Industrial Park sits one of the world's most prominent makers of boutique custom guitars and guitar parts.
And despite clients and partnerships from all over the world, the business couldn't be any more local.
Nate DeMont started DeMont Guitars in 2008 not long after injuring himself while training for a strong-man competition. Back then the shop was located in his Oswego home.
DeMont would scour local classifieds for cheap used guitars, fix them up, and resell them for a profit. Fast forward seven years, DeMont is now leasing 2,500 square feet at 61 Stonehill Road and building and selling his custom guitars and parts all over the world.
"It all started in high school at OHS and their amazing woodworking program," said DeMont, who graduated in 2002. "I built my first guitar as a side project in woodshop. It was a little rough, but that was my first guitar."
After graduating from high school, the lifelong Oswego resident took classes in sound engineering at Waubonsee Community College and worked a series of odd jobs, including building and grounds maintenance, locksmithing and construction. It wasn't until after DeMont's strong-man injury that he returned to what he once considered a passing interest.
"The injury wasn't bad, but the surgeries to repair it didn't go well," he said. "I just started picking up guitars again. I knew then that I wanted it to be something more than just a hobby."
DeMont's business went global in 2014 when he began a partnership with Japan's first electric guitar company Guyatone. That relationship started after DeMont began buying up vintage models of the company's guitars, becoming the world's premiere collector of Guyatones.
Today, DeMont has about 80 housed in a room at his fiancee's home, and was featured in the recently published book History of Japanese Electric Guitars.
"There's just something about Guyatone guitars that I love," he said. "It's a little hard to explain, but I'll never sell them. Maybe I'll trade one for another one, but I'll never sell them."
DeMont became such a huge fan of the guitars that he said he contacted the owners of the company through email and struck up a partnership to market DeMont guitars and parts in Japan while marketing Guyatone products in the Unites States.
Even with the international success of his business, DeMont continues to grow it locally, as well. In May, DeMont launched DeMont MFG LLC to begin more manufacturing work here in Oswego, adding new machinery and two more employees.
"Eventually my goal is to be making DeMont guitars all right here locally," he said. "Local parts. Local employees. This is where I really want to be."
For more on DeMont Guitars, check out the company's website and Facebook page.
---
---